The Solar Decathlon Europe 2019, an epic chapter in SDE history. Time to take stock and highlight three outstanding SDE19 Competition Teams in Szentendre, Hungary.
Five years after the SDE14 Competition in Versailles, the Solar Decathlon Europe came back to life this summer, under the blazing July Szentendre sun. International in fact and in spirit, the SDE19 included once again a diverse group of Decathletes in ten Teams representing 27 Universities or high level educational institutions spread over 8 countries and 3 continents. After thrilling assembly and Competition periods of hard work, heat, fun, and new friendships, the Teams and their prototypes achieved remarkable outcomes. Their successes are the result of two years of collaboration among students from all kinds of academic disciplines including architecture, engineering, design, communications and business.
Three Teams particularly stood out during the SDE19. They excelled after competing in the ten SDE19 Contests that put the Decathletes and their prototypes to the test in terms of performance, energy efficiency, comfort and resource-responsibility. The SDE19 Organisation is very proud to introduce the top three winning teams from this milestone Solar Decathlon Europe edition.
habiter2030_ 1st place!
from 1930 to 2030 _ the rehabilitation begins!
The HABITER2030 Team's project is characterised by the renovation of 1930's houses in urban areas from the north of France. The Team encourages a collective movement that inspires new opportunities for development, employment and education. As such, the role of the inhabitants was a vital aspect of their project and the HABITER2030 Team introduced unique and innovative approaches to energy-efficiency, combining ingenious products with effective and straightforward solutions.
The H2030 (also known as the Inhabit2030) prototype is a typical example of a 1930's house representing the dimensional, architectural and thermal qualities associated with this typology. Key features include the introduction of a glasshouse extension, which not only provides additional floor area, but also contributes to the natural heating, ventilation and energy production. Distinctive building materials and technologies work in tandem with an intuitive home automation system adapted to the inhabitants' needs and lifestyle.
©EEF
mor_ 2nd place!
together we can do mor!
Representing the most culturally diverse and highly awarded SDE19 Team, MOR Team TU Delft developed a strategy to renovate underperforming office buildings into net-positive, multi-purpose buildings that contribute to their environment as catalysts for social activities and interaction. Their case study involves the Marconi towers in Rotterdam, a typical 1970s office typology located in an area currently being transformed into a new 'makers' district. Through the use of prefabrication methods, MOR Team TU Delft made it their objective to develop these housing units at affordable prices targeted at young professionals, age 25-35.
Their iconic concrete prototype is built to be flexible through its modular design from the interior modules to the photovoltaic facade tiles. Other key features include an intelligent and efficient system that filters the outside air and provides a comfortable and healthy indoor climate. Also, the Team applies 'design for disassembly' methods and environmentally-friendly materials in a way that the building serves as a material bank: each material is comprehensively recorded in an open-source material passport.
"The solar decathlon europe competition is an experience of a lifetime. Nothing beats seeing a complete solar village emerging from the ground. All teams have become one sde19 family during the competition where we all learned from each other. Having a diverse group of decathletes from different countries enriches this knowledge exchange considerably. As for the students, they get the full package. The unique experiences gained during the sde19 will open future doors for them. Most importantly, the solar decathlon europe competition allows us to spread a very important message by showcasing solutions that bring us closer to an energy transition."
– Andy van den Dobbelsteen, Faculty Advisor of the MOR Team TU Delft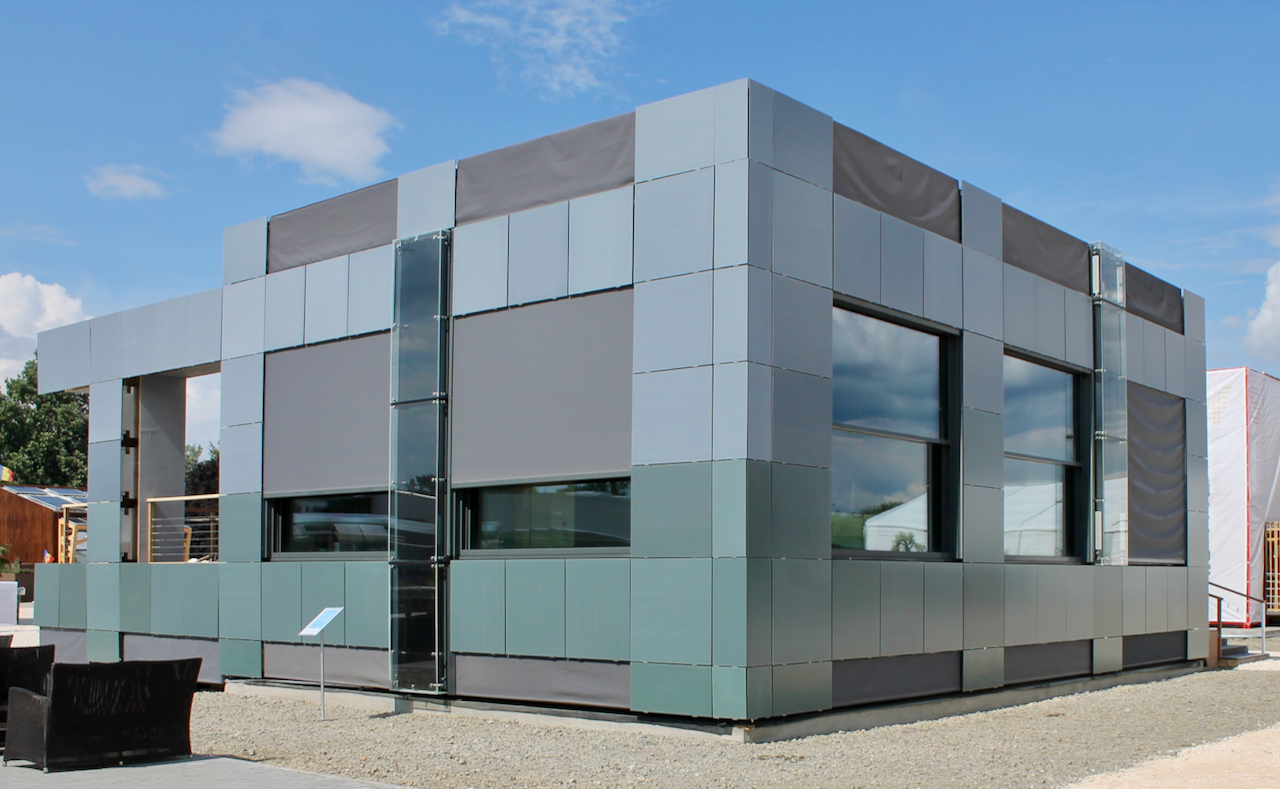 ©EEF
over4_ 3rd place!
#renovationthroughtransformation
A multidisciplinary Team in the fields of architecture, design and civil engineering, Over4 developed a renovation project of the 5-storey communist era apartment buildings found in many Romanian cities. Integrating eco-passive building principles and sustainable development practices, the Team proposes a holistic renovation concept through which these blocks can reach Net Zero Energy Building standards that respond to the EU's sustainable development strategies for 2030.
The Over4 prototype represents a rooftop unit that can also be built as a self-standing house. Its key features include passive systems such as proper thermal insulation and an adequate heat recovery ventilation unit. End-users will enjoy various living possibilities through flexible multi-purpose, shared spaces. The characteristic southern terrace creates a common place for gatherings, socialising, rest and relaxation, while integrated solar panels provide shading.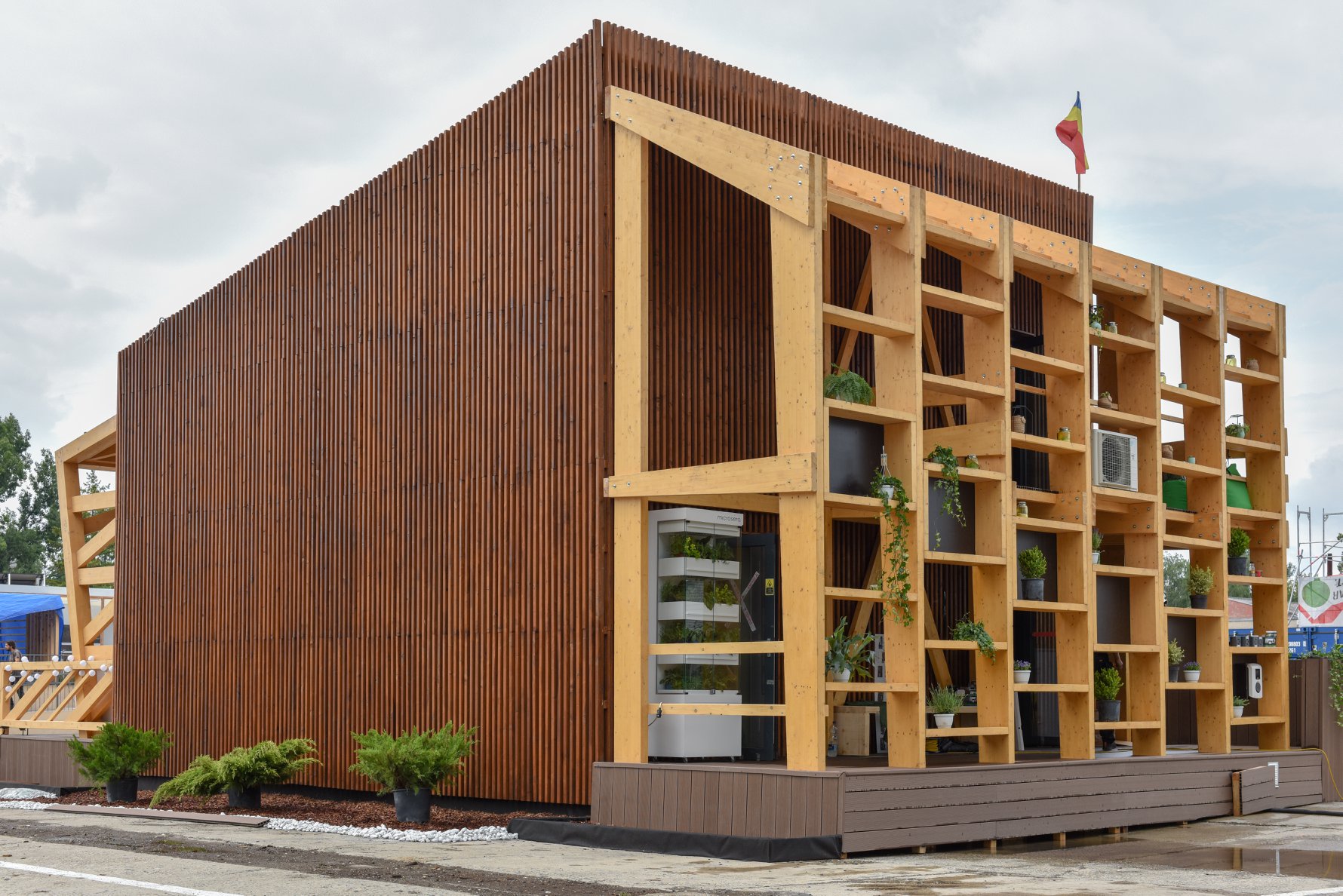 ©EMI
When celebrating these top SDE19 Teams for their exceptional work, it goes without saying that the SDE19 Organisation recognises all participating Teams for their hard work and dedication. Each prototype is unique and an inspiration. Decathletes are true role models and leaders in taking on the challenge to steward our built environment and change the world!
Thank-you to all Decathletes, Faculty Advisors, Organisers, Juries, volunteers and visitors who have made the Solar Decathlon Europe thrive once again. For more info go to www.sde19.hu.
Read and download the visitor's guide here:
https://solardecathlon.eu/sde19-visitor-guide/
Read about the start of the Competition here:
https://solardecathlon.eu/sde19-is-underway/
The Rules and other documents are available under the sde website's downloads section here:
https://solardecathlon.eu/category/information/sde-downloads/